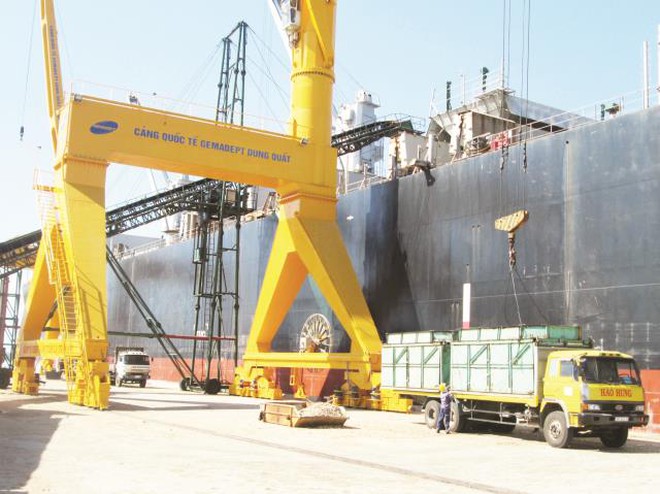 Urgency
Vietnam logistics experts are always evaluated as potential development and market expansion. However, Vietnam enterprises are facing many problems can not be solved in a day or two.
Ms Le Hoang Oanh, Deputy General Director of JSC logistical Avina, when many FTA was signed, especially the establishment of the ASEAN Economic Community General (AEC) later this year, not the flow of goods Imex DN rise of foreign investment that has and will have strong growth. Among them, a lot of logistics enterprises of ASEAN countries to Vietnam has invested to expand the market. Significantly, companies of these countries have an understanding of the laws and customs and culture of Vietnam to work better than companies from other countries, so the ability to develop and integrate their easier.
Also speaking on this issue, Wu Hung, Deputy Director of JSC logistics Shengli said, the foreign logistics enterprises to Vietnam has great advantages in terms of capital and "ethnicity", many businesses FDI transaction volumes, large Imex often opt for logistics enterprises have investment from their countries. Therefore, Vietnam enterprises can hardly squeeze worked with the "big" is.
It is from these pressures, many domestic enterprises have made logistics a strategic step, seeking to raise capital to invest in more infrastructure, development and consolidation of services. Tran Huy Hien, General Secretary of Vietnam Association of logistics enterprises (VLA) said that this is the inevitable path for Vietnam enterprises establish solid, enhanced competitiveness.
Most recently, the company has poured more Gemadept 340 billion to invest in the project to build logistics center in Song Hau Industrial Zone (Hau Giang). This is a figure that "crisis" for the majority of logistics enterprises in Vietnam. However, by his efforts, many small and medium enterprises are also steep capital to expand production.
According to Mr. Wu Hung, the Company is investing additional 3-4 billion to upgrade, get more help expand warehousing customers. Besides, the company is investing in vehicles to improve road transport between Thailand, Laos and Cambodia to Vietnam or to China. This direction in the future will be very beneficial in helping AEC for trade goods quickly but cheaper by sea than by air a lot.
This is one of the similar direction with Avina logistics, Ms Le Hoang Oanh said, with 20% planning to increase revenues in the future, the Company will invest in capacity building staff development management technology and solutions through smart devices, utilities to manage the route of cargo flows quickly, accurately and efficiently ... Besides, Avina also promoted cooperation links, even even mergers and acquisitions (M & A) with other logistics companies, which focus on road transport companies.
Must overcome difficulties
For the development of enterprises, Ms. Le Hoang Oanh assessment, extended trend of enterprises but that has catch up with the pace of development of the market but still go slower than other countries in the region . Many companies from China, Thailand, Singapore ... was interested before, in time to open an office in Vietnam to welcome the first wave of investment from the country of their businesses.
Talking about the difficulties of logistics enterprises to expand, according to Tran Huy Hien, the most difficult is funded by the Vietnam logistics enterprises are mostly small and medium enterprises, the business is still "processing" for large enterprises the initiative should be restricted. Besides, our country is weak enterprises in technology, manpower and experience. With such challenges, many businesses still have to stay out of the race to develop or accept M & A with large enterprises.
To solve this challenge, many logistics enterprises said that companies need to be linked together, forming a chain to support and complement each other. But the joint venture, the link between local businesses are still very "loose" and still wary of mutual sentiment that foreign enterprises have the opportunity to dance to dominate.
However, in addition to mobilizing businesses themselves, grow, businesses are in need of assistance from organizations, associations and state agencies. Company representatives said Avina logistics, logistics industry is "odd collection", the business plan or investment needs long operating time obtained new capital. Therefore, the State should have policies for loans logistics enterprises. Moreover, to help reduce costs for businesses in transportation, the transportation infrastructure, harbors and procedures ... should have a strategy to improve synchronization, reduced the time and costs of customs clearance procedures cargo, transportation ...
It can be seen, with the characteristics of professions, the domestic logistics enterprises must have the capacity to recognize, appreciate what the market wants to overcome the difficulties mentioned above, finding strategic direction, matching capacity and their capabilities.