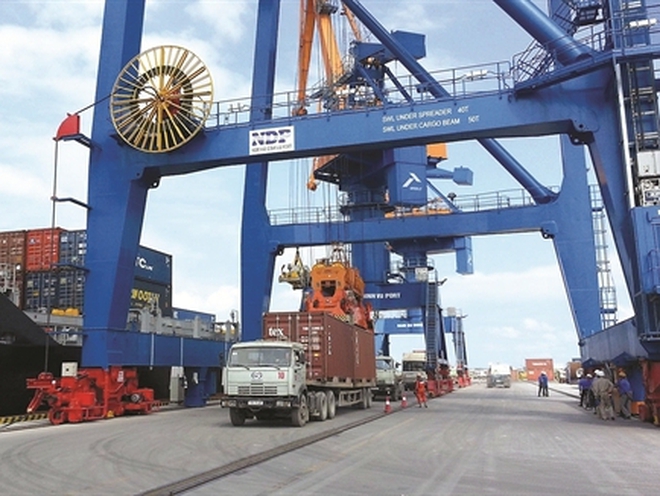 Although deployment was 3PL, Bui Tuan Ngoc president of Transimex still assess Vietnam now only engaged in the primary logistics.
12.8 On the last, Transimex Saigon company officially commenced construction of "bonded warehouse and logistics center of the high," more than half a year after receiving the investment license. This project covers an area of ​​10 ha with a variety of warehousing, international standards and is expected to go into operation in early 2016. Mr. Bui Tuan Ngoc, president Transimex Saigon, expressed hope that the project will creating the basis for the company to focus on developing supply management services and supply chain package 3rd party logistics (3PL).
Foreign - internal duplex
Not only Transimex desire to become service providers of comprehensive logistics, which is also the target of a lot of companies involved in this sector. The impact of free trade agreements with these activities identifiable market expansion push for the enterprise desk logistics involved in the supply chain of goods.
Up to 40-50% of companies in developed countries to use "outsourcing logistic service package" for their freight movement. In Vietnam, the large companies such as Masan, Vinaphone was at the forefront of this trend.
In fact the industry, the logistics group has the highest sales world is the unit leader in providing contract logistics comprehensive package. These include names like DHL, Kuehne + Nagel and DB Schenker.
In Vietnam, organize Armstrong & Associates announced that the market offers synthetic 3PL logistics services in 2014 only reached a value of about 1.2 billion, is still very low compared to the world and is in the hands of Foreign giants such as DHL Logistics, Damco, FedEx, APL. However, Vietnam has emerged as GMD names, Vinafco or Transimex also worked hard to become a 3PL service provider.
Please see the "numbers speak" but the logistics enterprises of Vietnam has achieved since joining offer this service package.
The first is GMD. 2014, synthetic array 3PL logistics services company has achieved revenue growth of 28% and profit before tax increased by 175% compared to 2013. They have 8 logistics distribution center from South to North and is serving more than 40 large customers, both multinational (Samsung) and domestic (Vinamilk, Masan, Kinh).
Next is Transimex Saigon. After upgrading the ICD (Inland Customs port) in 2011 and invested more distribution centers in 2013, revenues in 2014 of Saigon Transimex 480.8 billion, profit after tax was 138 billion . This is an increase of 2.7 times and 3.7 times revenue after tax profit compared with 5 years ago.
And can not fail to mention the "star" was Vinafco other. From the ability to provide full service 3PL logistics, Vinafco has overcome many serious competitor to win major international contracts such as Akzo Nobel (Dulux), Kimberly-Clark (Kotex). Vinafco are capable of providing 3PL services in the strategic economic position as Hanoi, Hai Phong, Da Nang, Binh Duong, Hau Giang.
The company also implemented warehouse management software advanced, reducing 50% of working time, respond quickly to market changes.
But despite being deployed 3PL, Bui Tuan Ngoc, Transimex, still assessed that Vietnam now engaged in a new logistics at the primary level. The problem is not easy in this industry are companies required to apply information technology level, high level algorithms continuously. Besides, the company must also have the massive expansion of infrastructure to take advantage of "economies of scale" in the transportation, storage, demurrage. From that optimize operations, eliminate useless costs.
The motion itself will not be complete without getting disturbed by objective factors. With this industry, everyone can understand that infrastructure including bridges, roads, ports, the frequency must develop cargo traffic has increased; or clearance procedures, the papers must be quick, streamlined. But in Vietnam this is still a long story.
According to the World Bank (WB), the logistics cost of Vietnam made up 25% of GDP, higher than in most neighboring countries. This rate is 19% in Thailand, China 18%, Japan 11%, Singapore 8%. This reduces the competitiveness of Vietnam logistics, although considered effective indicator of logistics (LPI), the Vietnam reached 3.5 / 5 points in 2014, up 5 places from 2013.
Go find lying areas
Although still inadequate, the company's Vietnam logistics business continued to expand the scale. This is not hard to understand the scale logistics industry is 20-22 billion dollars, with the average growth rate of 16-20% / year. Also, according to Nomura Research Institute (Japan), Vietnam logistics companies only meet market demands quarter and was stopping at the logistics service provider for some phases of the service chain This huge. Enterprises increased investments in logistics also to catch the opportunities from international economic integration.
Going into the array to create a value chain of logistics, freight forwarding past the terminal operators (sea and air) and transport (domestic and international) is another potential area of ​​opportunity, besides two service Other supply chain management and warehousing. 90% of goods imported to Vietnam by sea transport with 500-600 million tons / year. Expected by 2020, cargo through the ports will reach 1.1 billion tons.
Nguyen Thanh Binh, Deputy General Director of GMD, disclose revenue from port operation at GMD Convention contributes about 60% of total sales in 2015 of this company. That's because the GMD was put into operation in 4 of 6 ports where they invest. In particular, the port of Nanhai Dinh Vu but just put into operation from January 5.2014, but the first year has reached 60% mining capacity and record profits.
Things GMD achieved is remarkable, because the seaports often suffer first loss 2-3 years and payback in a short time not around for over 10 years. Nam Hai Dinh Vu is the key strategy in seaports nationwide chain of GMD. So big he will exploit to 2 port and Nanhai Nanhai Dinh Vu at 100% capacity in 2015.
Nam Hai and Nam Hai Dinh Vu port are located in Haiphong. The report analyzes from BIDV Securities Company suggests this is an area where imported goods go through achieving high growth rates, averaging 14.6% / year over the period 2009-2014. The ports operate here as Dinh Vu, Hai An, Greenport are positioned as close to the major industrial zones, which can accommodate large vessels to achieve optimal extraction efficiency.
Need handshake
But participation in the exploitation of seaports is a game of money and money, to the handshake over again. A Nanhai cited Dinh Vu port capitalized than 1,300 billion investment and holding 84.66% GMD capital. Similarly, joint ventures to Transimex Transportation Company and Hai An Stevedoring. Transimex venture with Nippon Express Co. and VINAFREIGHT. In addition to support for aspiring to specialize in providing 3PL Transimex, all capital contributions are contributing more than 50% of annual profit after tax for the company.
Regarding transport, thanks to the protection that Vietnam dominate shipping routes inland waterway. And internationally, Vietnam participated only short routes and in neighboring areas such as Vietnam-Phnom Penh. The scope of activities of the company Vietnam insufficient scalability as the "super boss international logistics" as APL (nearly 100 countries) and Maersk (60 countries).
Also, due to the large import-export company of Vietnam mainly FDI or outsourcing companies, should sew forwarding companies are usually delivered to international deployment. Rare opportunity for Vietnam companies engaged in the global logistics chain.
However, opportunities for Vietnamese enterprises in the transport segment lies in the ability to make freight packages with optimal rates. Understand basically the contract package deploy multimodal transport including carrier selection inland waterway transport, transfer of goods to the port, then select carriers, airlines international traffic with very competitive rates avoid.
Companies Vietnam as GMD, Transimex, Vinafco are strong enough to implement this strategy. In particular, according to calculations by the Vietnam Maritime Bureau, while transport accounted for 40-60% of the cost of logistics and new businesses in the country can only meet 18% of demand for cargo shipping import and export potential energy transport service market in Vietnam is very promising.
The key is deploying transportation companies to build ports Inland Clearance Depot (ICD). ICD is a place for gathering goods from the shipper, packed into containers and then transferred to the harbor. Or the other way round is receiving income from port, unloading from the container and transported to the recipient.
Indeed, in deploying storage services, the "distribution center (DC)," is the advanced development. Corporations produce consumer products, electronics such as Samsung, Unilever, P & G, Vinamilk has demand for DC because this model allows retrieval of information, fast and accurate merchandise.
Therefore, investment in logistics, most large companies have prioritized expanding DC area. 2015, Nguyen Thanh Binh said, GMD will "northward". GMD plans to invest heavily in logistics centers, warehouses and ports in Hai Phong, Bac Ninh, Ha Noi, Hai Duong. In addition, GMD has also expanded logistics operations down the Mekong Delta while shaking hands with Minh Phu Seafood Company investment and Cold Storage Logistics centers in Hau Giang.
Meanwhile, with Transimex Saigon, once operational logistics center in Danang and Bonded - Center Logistics logistical services in High Tech Park (City), this company can play development management service supply chain for goods and equipment, electronic components from FDI flow into Vietnam. This step helps Transimex boost investment further provides 3PL operations.
Looking at the macro level, logistics services will be a key factor to promote the development of production, distribution and circulation of goods in the domestic as well as export and import. The Prime Minister also recently issued decisions on planning logistics development in the country by 2020, with the aim of achieving growth in the range of 20-25% per year, contributing 10% of national GDP. In particular, the form of 3PL services, e-commerce and supply chain management efficiency will be the key.